The employee information module is a straightforward tool for all employee related matters, from managing first name all the way up to digital employment contracts.
With Nepton you can manage employee information and user rights centralized and easily, in other words fast and cost-effectively. This fulfills every HR's needs.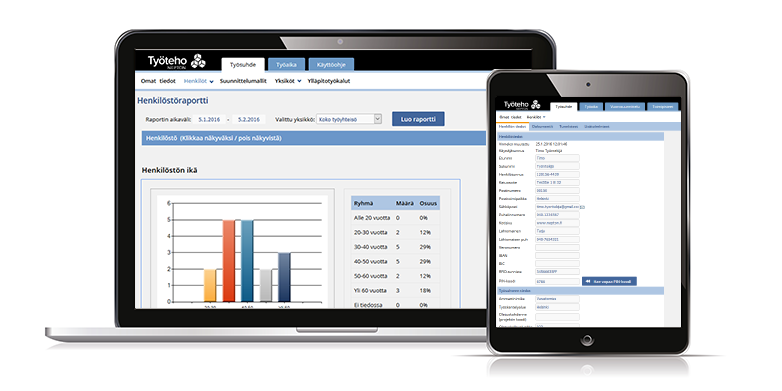 Ease your administrative work
With Nepton employee relationship functions the employees can review their own employment information and also update their own basic data directly into the service, thus reducing the administrative burden significantly. The service also includes digitalized employment contracts and sending electronic pay slips. In addition, there are useful personnel reports available for the administration, e.g. for the personnel financial statement.
Intelligent data transfer provides efficiency
New and updated employee information is automatically available all over Nepton service, and via interfaces all the way up to e.g. payroll system too. It is also possible to import employee information from other systems to Nepton.

Archive
Employee data archiving and history

Data import
The employee data can be imported from external HR systems or e.g. from Excel

Centralized control
Maintenance and search from one master source

Personnel data reporting
Age distribution, gender balance, state of employment contracts
Cost savings through digital processes
As an extension, the employee's own pages are available to help he/she to manage contact information and browse job-related documents. Digital pay slips can be imported there, as well as contracts can be created and signed directly through this service.
Electronic contracts
The employer and the employee need not necessarily be in the same place at the same time as the employment contract is done. Employee's employment contracts are created electronically and come into effect after the approval of both parties. The contracts and their appendices are kept in the service where they can be printed if needed.


Rainmaker compiled all its employee information into Nepton


Would you like to have a webinar of employee information management?
Please, contact us!