Nepton's versatile reports can be utilized by human resources, payroll, financial management, superiors and executives. Reports can be tailored with various limits; based on time, organization or employee group, or person's worktime type. All reports in the Nepton can be transferred to Excel for possible further processing.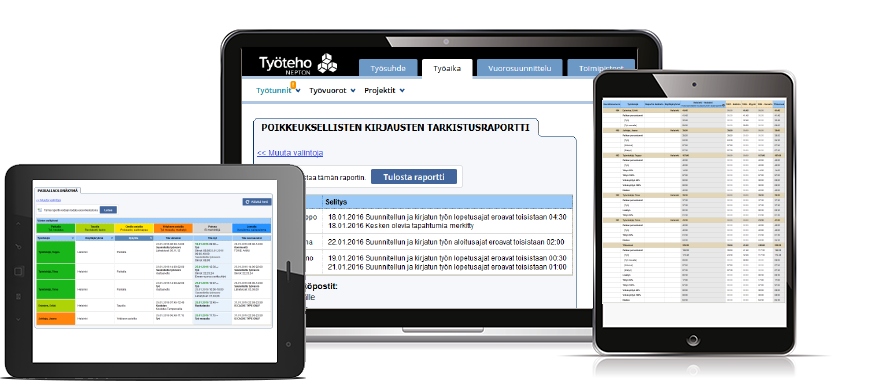 Worktime reporting
Working hours summary per person
Worktime report in calendar view or time sheet
Labour agreement interpreted salary material
Flexitime, worktime bank, overtime
Exceptional working hours registrations, worktime check report
Attendance/absence of employees
Annual leave reporting
Real-time annual leave accumulation and planning
Annual leave accrued and used days
Annual leave per holiday year
Sick leave reporting
Sick leaves per person, quantity, duration, paid/not
Sick leaves per groups, comparison of absence percents per groups
Occupational accidents
HR reporting
Personnel report
Age and gender distribution per unit
Skills
Education
Valid qualifications
Allocation of worktime reporting
Project hours per employee
Invoicing basis of project hours
Multi-project events reporting
Report templates for EU projects
Shift plans reports and lists
Distribution of shifts per email or sms
Shift plan per group
Shift plan per task(s)
Resource planning


Would you like to have a quick webinar of reporting benefits?
If yes, please send us schedule wishes!