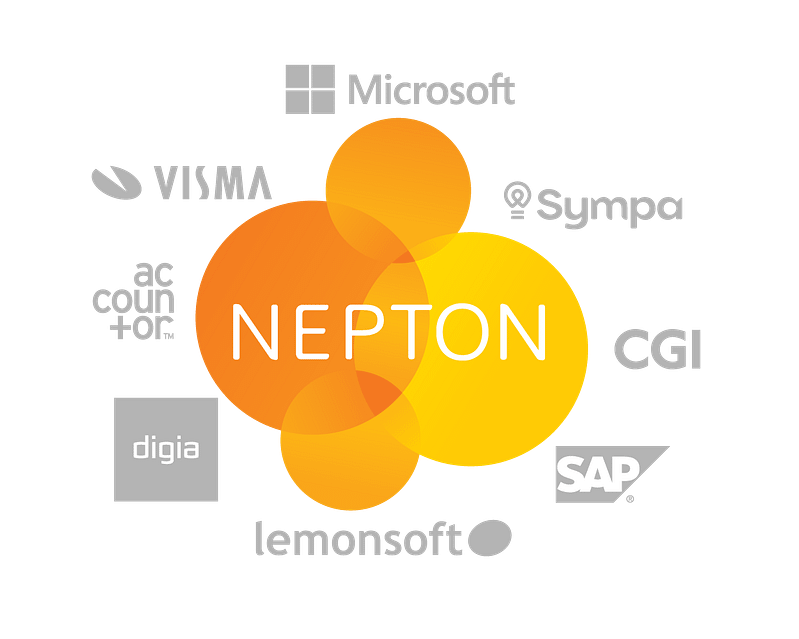 Take advantage of integration with other systems.
Nepton is based on an open and customizable interface. The service has built-in integrations with over 40 payroll, ERP and HR solutions.
The development work of the service is continuous, if we do not have an existing integration into the system used by your company, we can develop it. Please contact us and ask for more information.
Payroll
Transfer posted work hours and CLA interpreted salary types to payroll.
Accountor Mepco HRM
Accountor Procountor
Accountor Tikon
Aditro W
Administer eFina
Digia Sedab
Digia Enterprise
DL Prime
Emce
Epicor Scala
CGI Major Blue
CGI Pegasos
CGI Populus
CGI Prima
CGI Sonet
Heeros ePalkat
Hogia Palkka
Lemonsoft
Lessor5
Palkka.fi
SAP
Safeguard Global
SD Worx
Valtio Kieku
Visma Business
Visma Econet
Visma Fivaldi
Visma L7
Visma Lön
Visma Netvisor
Visma Nova
Visma Payroll
Visma Personec F
Western Liksa
Calendars
Keep your staff calendars up to date with Nepton.
Google Calendar
Microsoft Outlook
Microsoft Office 365
Mozilla Thunderbird
Human resources
Centralize the management of your staff information and absences.
Accountor Mepco HRM
SAP SucccessFactors
Sympa
Valtio Kieku
ERP / Operational control
Allocate hours to the work codes and projects for operational control.
Accountor Tikon
CGI Sonet
IFS
LeadDesk
Microsoft Dynamics AX
Oscar Pro
SAP
Visma Business
Visma L7
Visma Nova
Single sign-on
Nepton supports automatic single sign-on for your work community.
AD Federaration Services
Google
IBM Tivoli
Microsoft
SAML 2.0
Valtio Virtu
Access control
All registered activities are collected directly from access controls.
Deltabit Gatekeeper
Visma Megaflex
Attendance
Transfer actual attendance information to mobile, lobby and calendar services.
Elisa Ring
Mitel Aastra
Telia Merex
Workshift planning
Import workshift planning data to Nepton and return employees´ clocked work event data.
Do you want to hear more?