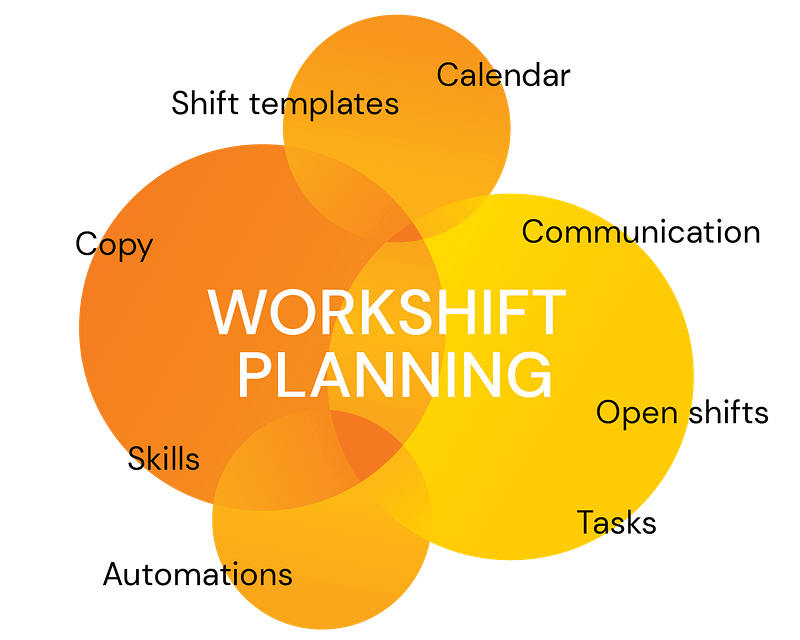 Workshift planning makes resourcing easier.
With Nepton, planning your teams' daily tasks is simple and quick. The shifts are visible to the employees electronically and the manager can observe absences, vacations and shift preferences.
You can plan work tasks directly, for example, for premises, projects, customers or employees.
Always schedule suitable employees for the tasks.
With Nepton, you can take into account the skills, shift preferences and absences of each employee when planning shifts and tasks. The service guides you to choose the employees who are best suited to each task.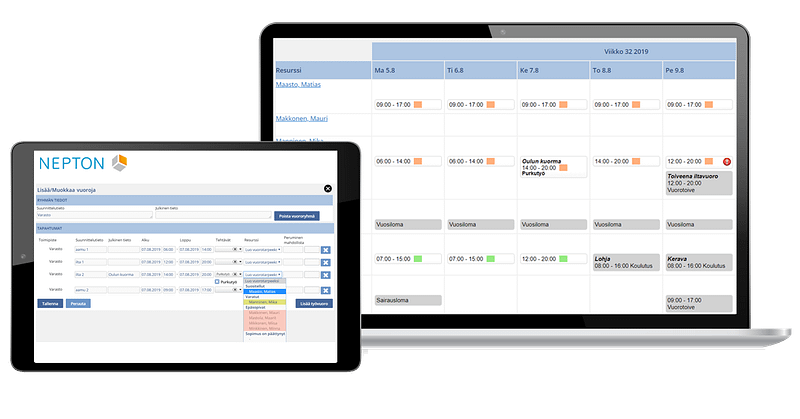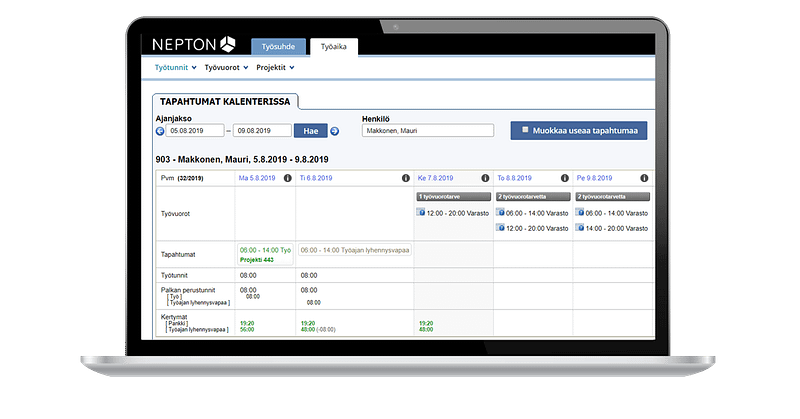 The staff can pick their own shifts.
With Nepton, a supervisor or a shift planner can offer available shifts to their own staff or on-call workers to choose from. The employee can choose the most suitable shifts and the choices are visible to all parties in real time.
Simple yet effective communication.
With Nepton, information about both planned and completed work is conveyed to employees, managers and payroll. The one planning can also add work instructions, comments, and other information related to the shifts that are visible to the employees.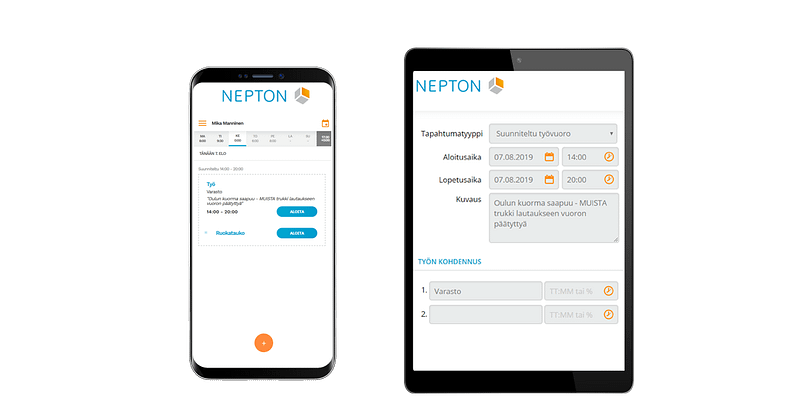 The schedule and actual working hours clearly categorized.
With shifts and tasks, the original schedules and the actual working hours seldom match. With Nepton, the work shift schedule and actual working hours are clearly categorized and the completed CLA interpreted working hours are automatically transferred to payroll calculations.
Do you want to hear more?
Nepton is a Finnish high-growth company. In the future, we are aiming to be Finland's most popular human resources management service and the most recommended partner. Join our over 750 satisfied customer companies and 110 000 users.
Nepton auttaa ongelmatapauksessa aina todella nopeasti.
Nepton toimii kuin Clapton kitaran kanssa.
Nepton on erinomainen esimiestyön ja johtamisen väline.
Neptonin avulla henkilöstöhallintomme on suoraviivaistunut.
Saimme integroitua Neptonin helposti muihin järjestelmiimme.
Nepton on erinomainen järjestelmä.
Neptonin ansiosta työaikaa on säästynyt kaikilta todella paljon.
Teimme laajan toimittajavertailun ja päädyimme Neptoniin.
Nepton toimii erittäin hyvin puhelimella ja auttaa liikkuvassa työssä.
Nepton auttaa meitä keskittymään työhömme – lasten auttamiseen.
Teimme Neptonin kanssa monipuoliset määrittelyt vastaamaan tarpeisiimme. Järjestelmä joutui taipumaan – ja taipuu – vaativiin tehtäviin.
Neptonin edistyksellinen mobiilikäyttö mahdollistaa työaikojen helpon kirjaamisen liikkuvassa työssä.
Integraatio säästää henkilöstöhallinnon aikaa ja isossa kuvassa se mahdollistaa myös tiedolla johtamisen.
Yrittäjän näkökulmasta on tärkeää, että saamme Neptonilta HR-asiantuntijuutta ja ymmärrystä työaikalain vaatimuksista.